Sustainability
Piedmont is dedicated to environmentally sustainable practices that enhance our commitment to provide highest quality office properties. We strive to own and manage workplaces that are environmentally conscious, productive, and healthy for our tenants and employees by: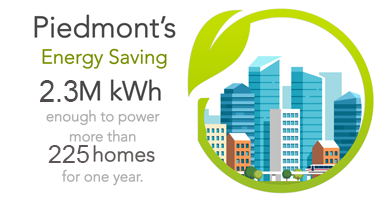 In 2018, Piedmont's energy-saving initiatives resulted in savings of over 2.3 million kWh compared to our 2016 baseline.
Piedmont's Sustainability Task Force, comprised of regional and corporate leadership as well as a third-party adviser, has created a ten-point plan that shapes Piedmont's ongoing efficiency and sustainability practices. Some of the plan elements that have contributed to our progress include: prioritizing the portfolio for capital investment in energy efficiency projects, leveraging utility incentive programs to complete lighting and other efficiency projects, encouraging building engineers to participate in energy efficiency training programs, and utilizing a real-time energy monitoring software to optimize building electricity use.
Piedmont leverages industry partnerships including BOMA, ENERGY STAR, and U.S. Green Building Council, to advance the energy and sustainability performance of its assets.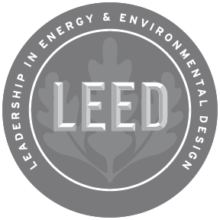 Approximately 38% of Piedmont's office portfolio is LEED® Certified (based on Square Footage)
Leadership in Energy and Environmental Design ("LEED") is the preeminent program for the design, construction, maintenance and operations of high-performance green buildings. LEED certification designates commercial buildings that are designed, built, and operated to minimize environmental impact while offering healthy settings in which to work and live. Piedmont has been a Silver member of the U.S. Green Building Council since 2007.
Recognition
Thirteen of our assets have been awarded a TOBY award.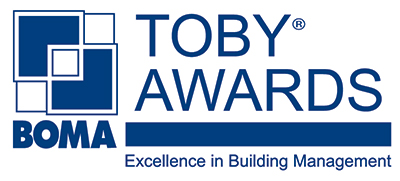 The Outstanding Building of the Year (TOBY) Awards are sponsored by BOMA on an annual basis and honor the best of the best in commercial buildings.
The annual Outstanding Building of the Year ("TOBY") Awards are the most prestigious awards of their kind in the commercial real estate industry, recognizing excellence in office building management in fourteen different categories based on size and facility type. Buildings are judged by their peers on all facets of building operations including energy management, tenant relations, community involvement, emergency preparedness and security. Upon winning at the local level, a building then competes regionally, with only a select few moving on to the International level.